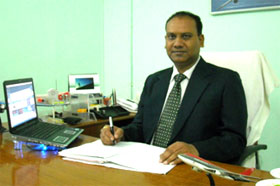 A warm welcome to you from the Director of (S.C.A.E).
The college is dedicated to the education and training of those intending to enter the aviation industry. So, we prepare student trainees for fulfilling careers as a (AME) Aircraft Maintenance Engineering.
we encourage our students to develop as motivated, disciplined and independent learners ready for the challenges that lie ahead of them.
Our friendly staff are committed to ensuring the highest quality of course delivery, applying cutting edge technologies and resources and in creating an inspiring learning environment and experience.
The well wishes and support of the students and parents is our strength and we would welcome you all to become partakers of this highly resourceful learning environment for an enduring and mutually sharing and benefitting career. It is worth one takes up a chance to experience the difference and to enjoy the Joy of learning. Your foot prints on our premises is our prosperity.
Mr. B. C. Jain
Director
Sky College of Aeronautical Engineering
Bhopal